Lindsay Ellis, who got cancelled earlier this year, has announced that she has quit YouTube and other content channels.
Who is Lindsay Ellis and Why She has Quit YouTube? Raya tweet and Omelas Meaning Explored:
YouTuber Lindsay Ellis has called it quits. Fans say that Ellis had to leave Twitter because she was "harassed to her breaking point" for an old tweet where she said that 'Raya And The Last Dragon' was a ripoff of 'Avatar: The Last Airbender'.
Why Did Lindsay Ellis Quit YouTube? Twitter Post Explained:
The YouTuber made her announcement via a Twitter post on Monday, December 27th.
Who is Lindsay Ellis and Why She has Quit Twitter?
Lindsay Ellis is a content creator and YouTuber. Ellis runs a successful YouTube channel that has clocked over a million followers so far. She creates video essays and "other nondescript content", as described by her.
"Enjoy these hottest of takes on Disney, Transformers, and Musicals. All hail the Algorithm," her YouTube bio adds.
She has amassed 318k followers on Twitter and also shares content on Patreon.
Why Did Lindsay Ellis 'Omelas' Meaning As Vlogger Quits YouTube Over 'Raya' Controversy:
Lindsay has confirmed that she has quit YouTube and other content on Monday (December 27th).
In March this year, YouTuber-author Lindsay Ellis found herself at the centre of a troll fest.
The 'harassment', as her fans say, was triggered by her tweets, in which she had called 'Raya and the Last Dragon' a redux of 'Avatar: The Last Airbender'.
In a recent Twitter post, Ellis bid her fans 'goodbye'.
Goodbye. https://t.co/zcpwbq0Q04

— Lindsay Ellis (@thelindsayellis) December 28, 2021
The YouTuber got 'cancelled' in March 2021 after she shared her thoughts about Raya and the Last Dragon and Avatar: The Last Airbender in a tweet, which led to mixed reactions on social media.
In a since-deleted tweet, she wrote:
"Also watched Raya and the Last Dragon and I think we need to come up with a name for this genre that is basically Avatar: the Last Airbender reduxes. It's like half of all YA fantasy published in the last few years anyway."
Lindsay tried to justify her tweet in another post after backlash from users, writing at the time:
"I can see where if you squint I was implying all Asian-inspired properties are the same, especially if you were already privy to those conversations where I had not seen them. But the basic framework of TLA is becoming popular in fantasy fiction outside of Asian inspired stuff."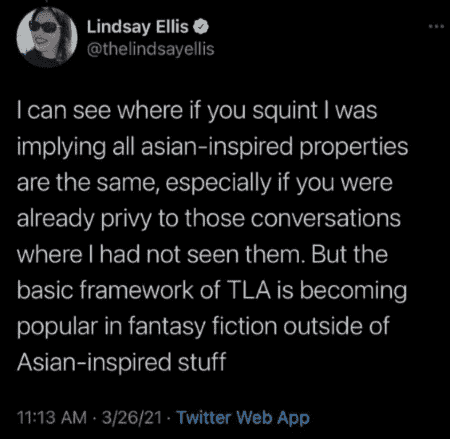 However, Ellis tweeted later, possibly in an effort to explain her earlier tweet, which some thought exhibited a lack of "research" and her post led to more backlash from social media users which got her 'cancelled'.
Following the drama, Lindsay apologised in a 40-minute YouTube video titled 'Mask Off' in which she addressed how the word 'cancelled' originated, and how netizens have given rise to the ideology of "Twitter villain of the day."
Lindsay Ellis is literally calling it quits because of that Raya tweet. She has over a million YouTube subscribers and about 9,000 Patrons and her career couldn't survive *one* problematic tweet. That's what operating in that toxic space is like. pic.twitter.com/0WMN6nHFq6

— Noam Blum (@neontaster) December 28, 2021
Nine months later, the YouTuber has announced her decision to quit all content in a lengthy Patreon essay. Lindsay wrote that her initial plan was to make a brief announcement in a tweet but she felt she needed to come forward with a statement since she has subscribers who pay for her content.
When not tied up in wires in her Los Angeles home studio, Ellis writes. Her debut sci-fi title 'Axiom's End' was received well.
"The blistering fast read isn't bogged down with unnecessary subplots or language to slow down the action,"
Eugene Weekly reviewed and added that she has constructed a world that makes the aliens unique without,
"falling into the sci-fi traps of limiting readers with hard science references, too much space opera-y or clichés."
In her essay, Lindsay wrote that having a career in the public eye is a "losing game" and that her tweets and apology have 'backfired' at her many times. She added that all of this led to her decision to "remove" herself from the online conversation.
A lot of Lindsay's followers have noted that the backlash she'd received for months has led to her decision to exit social media.
See Also: Watch Little Daisy Twitter Videos – little daisyistiny videos.
Twitter users React to YouTubers Exit:
Fans are now saying that Ellis has quit social media following months of humiliation over her tweets. Many Twitter users have shared their thoughts over Lindsay's decision to quit social media, addressing the cancel culture and the consequences of it.
one Twitter user wrote,
"Lindsay Ellis was hugely responsible for changing the youtube sphere and making video essays less "dude yells at the screen" and more of an intelligent form of entertainment in the long form. Aside from that, she also did some killer writing. We've lost a titan today,"
Lindsay Ellis was hugely responsible for changing the youtube sphere and making video essays less "dude yells at screen" and more of an intelligent form of entertainment in the longform. Aside from that, she also did some killer writing. We've lost a titan today. https://t.co/woTUZlIEcm

— the man downstairs (@ThManDownstairs) December 28, 2021
Another user Tweeted,
"I am disheartened by the way social media mobbing ostracizes and alienates vulnerable individuals. I empathize with so much of what was written here and I hope Lindsay Ellis finds comfort, joy, and peace of mind in whatever path she takes. I am crushed,"
The Third user said,
"A lot of peoples reactions to Lindsay Ellis quitting YouTube are why she quit YouTube. Y'all are insane and you will never learn until it happens to you."