Ninja's Wife Jessica and Pokimane Drama Rumbles On. On Monday, the Imane "Pokimane" Anys controversy involving JiDion "Jidionpremium" and Tyler "Ninja" Blevins has taken quite a turn, with the possibility of legal action being thrown about.
Pokimane published a DM from Jessica Blevins, wife of Tyler "Ninja" Blevins, in which Blevins threatened legal action against Poki for calling out Ninja over his support of Jidion.
Ninja's Wife Jessica and Pokimane Drama Rumbles On:
After the incidents that went down during the Jidionpremium controversy, which involved Pokimane and Ninja, things have taken quite a turn, with the spotlight moving from JiDion to Ninja.
Poki's quoting a clip in which Ninja said he reached out to a Twitch rep was defamation. Possible legal action to come about in controversy involving Ninja and Pokimane.
The situation started when Ninja said that he could help Jidion by sending a message to his Twitch rep on stream, ultimately concluding by saying,
"Alright, I'll do it" and then saying "alright, I sent the text."
Anys went live to explain more about the situation as a whole, talking about Ninja's specific involvement in an attempt to save Jidionpremium from a harsh punishment from Twitch, as he had allegedly texted his Twitch representative about the same.
Pokimane describing disagreement with Ninja and Jessica Blevins

Poki seems convinced Ninja texted his twitch rep to try to get Jidion unbanned, but Jessica denies it pic.twitter.com/cAMmDbmzsG

— Chillrogg (@chillrogg) January 17, 2022
Later on, Pokimane uploaded a crucial piece of evidence bringing into question legal threats made in her direction.
Pokimane's comments that sparked the legal threats from Ninja's team were:
"Ninja then keeps joking about it, says 'dijon is f***d' but that he will 'do whatever he can to help him' but 'don't expect too much.

He then says, verbatim, 'the most I can do is the text my Twitch representative about this' then proceeds to do just that.

Why Ninja would help someone avoid a ban for harassing me? I have no idea."
In her DM, Blevins claims that Pokimane lied when she said that Ninja reached out to a Twitch rep to try to help Jidion get unbanned, despite the fact that Poki was quoting him.
The ban in question took place after Jidion sent his fans to harass Pokimane on stream last week.
Ninja's team threatens to sue Pokimane for defamation:
However, Ninja and his wife didn't take to the accusation from Anys very lightly. The Fortnite streamer ended up texting Anys (who was mid-stream), swearing on his "grandfather's life" that he didn't text his Twitch representative. He proceeded to tell her that she was "making a big mistake."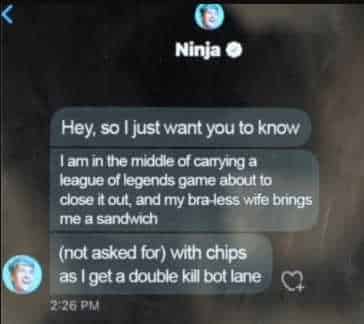 Pokimane shows texts from Ninja and his wife Jessica Blevins. Blevins also called Poki's comments,
"defamation of character" and said she is "getting our legal team involved."
— pokimane ⚔️ (@pokimanelol) January 18, 2022
"You are spewing lies to tens of thousands of people," Blevins stated angrily. " You know Twitch, you claim you know his rep.

then you know from them that Tyler NEVER reached out to anyone, and AGAIN, just said that to stop the harassment in his chat from Jidion's viewers."
Anys later replied to her own tweet, stating that she would accept the explanation that he was only pretending to message his representative.
https://twitter.com/pokimanelol/status/1483233868622675968
The drama surrounding Poki and Ninja comes after Ninja was gifted subscribers by Jidion the night that Jidion sent his viewers to harass Pokimane, eventually leading to her logging off for the evening and private her Twitter due to the weight of their harassment.
Ninja and his wife Jessica Blevins considering "suing" Pokimane for character defamation:
After Pokimane uploaded a tweet from Jessica Blevins messaging her about initiating legal action, several streamers responded with a mix of confusion and amusement at what had taken place.
According to Jessica Blevins, Ninja sent no such text to his representative and only said he did so to stop "harassment in his chat from Jidion's viewers." She spoke about defamation, saying that she involved their legal team in the matter.
However, during her stream, Anys had played a clip of Ninja allegedly committing the same act he and his wife said he did not do.
In the clip, Ninja can be heard saying the following:
"Alright, I sent the text. I can't- I don't promise a goddamn thing. Because at the end of the day, what happened happened."
Ninja claimed on stream that he texted his Twitch contact to help Jidion on stream, a claim that Blevins has now withdrawn in a private DM that she showed to her chat on Monday.
"I am tired of feeling alone and scared,"
Poki said in comments to Mizkif, explaining why she posted the DM from Jessica on Twitter.
The situation is an odd follow-up to Jidion being permanently banned after he sent his viewers to harass Pokimane last week.
His viewers not only harassed her but also harassed her viewers via Twitch whispers, eventually sparking Jidion's ban.
While Jessica Blevins claims that Pokimane referring to Ninja's clip is slander, many are pointing out that Ninja himself claimed to have sent the message to his rep.
So it is unlikely that vilification occurred since it would require that the information she reported be dishonest.
Considering Ninja claimed he did it, it is doubtful that any legal action would hold up to scrutiny.
Read Also: Kodak Black breaks his silence on what went down at the Florida Panthers game.
Fans and Friends Responses to Jessica and Pokimane Situation:
Many content creators seemed perplexed by Jessica's message, as there was indisputable proof that Ninja had at least spoken about attempting to help Jidionpremium through texting his Twitch representative.
Just wanna say thank you Ninja, Jessica Blevins, and Pokimane

Unemployed W pic.twitter.com/U0y7alr95S

— Jake Lucky (@JakeSucky) January 18, 2022
Jessica Blevins stepping in to this Ninja / Pokimane situation pic.twitter.com/qgAASNkyM7

— Dom (@WGGPapaDom) January 18, 2022
When your Twitter feed turns into pokimane, ninja, jessica and jidion drama. I guess I'm a part of it now too! pic.twitter.com/J6BIlzYwaV

— Narakusan's Following (@Narakusan2021) January 18, 2022
jessica blevins ninja, jessica blevins pokimane, jessica ninja, jessica pokimane, jessica potts, jessica poki, jessica weaver, pokimane jessica, pokimane ninja, ninja jessica, ninja and jessica, ninja belvins, roccat, jidion6, jidion twitch, jidion apology, jidion ninja dm.